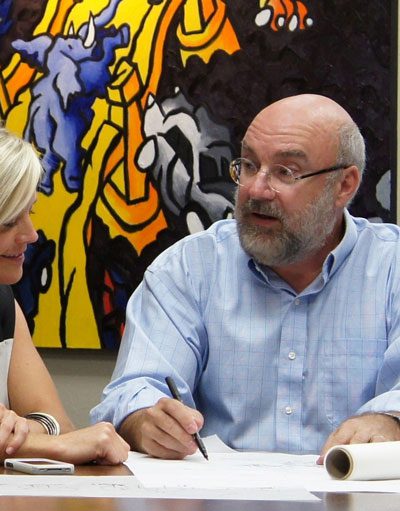 DENNIS REYNOLDS
Dennis Reynolds has over 35 years of experience providing award winning design throughout the world including projects in Australia, Dubai and the Far East. Mr. Reynolds' academic background includes a Bachelor of Arts degree from Wheaton College (1978) and a Masters of Landscape Architecture from Kansas State University (1986).
Dennis creates public art that results in responsive and innovative "places" that combine art + environment. As a single person practice, Dennis delivers projects through his personal hands-on approach and unique combination of:
Innovative and contextual design
Quick visualization with hand drawings
Facilitation of an interactive and creative design process
Prior to creating his own design consulting practice, Reynolds Urban Design, Dennis provided senior level design services at national design firms including Sasaki Associates, HOK and NBBJ. He founded and led the innovative HOK Design Studio, facilitating cutting edge multi-discipline design concepts for major projects including Nanjing Olympic Park, Dubai Formula One Autodrome and Cincinnati Reds ballpark. Dennis' work has been published in USA Today as well as in multiple design books and periodicals.
Significant project experience includes a wide range of art+environment projects with construction costs ranging from $2,000 to over half a million dollars including:
"Bridges" for the Bridge District in downtown Des Moines
"In-The-Loop" in Des Moines' East Village(under construction)
"Porch Lights", City of Leawood, Kansas
"Shimmer" (Central States ASLA Award and Iowa ASLA Award of Honor and Award of Excellence) for the Village of Ponderosa
"Signs of the Times" for Powell Gardens near Kansas City, Missouri
"Colorways" and "Velodrome" for the Village of Ponderosa
"Sower's Journey" for the Franklin Park Conservatory in Columbus, Ohio
"Art of Wetland Observation" for the National Endowment for the Arts
Kidspeak Riverfront Fountain (OH-ASLA Award of Honor) in Columbus, Ohio
"Porch Swings and Fireflies", Bondurant, Iowa*
"Heritage" for the Overland Park Medical Center in Overland Park, Kansas*
"Ribbons" for Mitchellville Women's Prison*
"Lucky" for the Iowa Lottery Headquarters*
"Harmony Line" and "Leap of Faith for the Clive Wellness Campus*
* Indicates collaborations with TJ Moberg
His five primary professional strengths as identified by Gallup's Strength Finders are:
Ideation
Strategizer
Connectedness
Maximizer
Individualization
His work is often guided by diverse ways of understanding art including:
Narrative experience: the impact art has on you that results in a memorable life story
Density of Meaning: multiple ways that individuals can interpret the significance of the art
Craftsmanship: quality, handmade use, manipulation and connection of materials
Ethos: expressing the unique qualities of a place, culture and time
Innovation: providing a unique and new vision or perspective toward an object or experience
Big idea: expressing a singular and bold concept in regard to any of the above